For Spring Break, we will be sewing the Jungle Friends Book!
Take a stroll into the exotic with this assortment from Stacy Iest Hsu.
Jungle Paradise offers vibrant depictions of the wild. Elephants, birds, big cats, and monkeys in bright yellow, green, magenta, orange, white, the list goes on and there's no shortage of things to find in the jungle! This multi-page panel book will challenge our young sewists with pivots and curves, turning out corners, edgestitching, handles, stuffing finger puppets and stitching flaps and interactive pieces onto their book! Sequencing, planning ahead, and following the pattern instructions are a must in this challenging and rewarding project!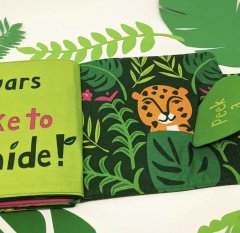 Your $275 fee covers all supplies and use of our kid-friendly, small BERNINA Classroom and machines. There are only 5 seats available, so act fast!
Please note: Sewing works up an appetite, and some of the kiddos are hungry and/or thirsty throughout the day. Please pack them a tidy snack (not Cheeto's or other things that could stain their projects), and a covered water bottle so they can have it near the machines. Please do not bring nuts to class. We strive to make this a safe place for all students and staff! Also, please make us aware if your child has allergies or special needs.