Beige Paisley Cotton
Black and White Cow Hide w/ Fur - Half

Approx 12 sq. ft.


Cotton Velvet - Brown
Designer Linen
Designer Upholstery Wool
Floral Embossed Silk Jacquard

54" Wide, 100% Silk


Italian Purple Velvet
Out of Stock
Leather Hide - Black FULL

FULL HIDE approx. 48 sq ft


Leather Hide - Bourbon

Has been cut into previously, approx. 20 sq feet total.


Linen
Mohair Upholstery
Out of Stock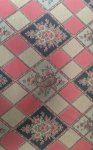 Paisley & Floral Cotton Tapestry
Out of Stock
Salt & Pepper Half Cow Hide
Silk-Light Brown

53" Wide


Wool Blend Upholstery

50" Wide, Wool blend