Aurifil Cotton Mako 50wt - 1300m

Made from Long Staple Egyptian Cotton. Ideal for detailed machine embroidery, red work, quilting, lace design and serging. Long staple cotton gives this thread the strength needed for high speed machines.


Elastic Thread 5wt - 10m/11yds
Gutermann Silk Thread 30wt 100m
ISA Texlight Glow in the Dark Thread
Isacord Polyester Thread 40wt - 1000m
Merc Cotton Thread 60wt - 200m
Metrosene Plus 50wt - 1000m/1097yds
Metrosene Plus 50wt - 150m/164yds

One the highest quality all purpose polyester threads. This is the perfect thread for all types of fabric. Machine washable, dry clean resistant press resistant to 392 degrees, color and light fast, sweat resistant, rub-fast and shrink free.


Robison-Anton J Metallic Thread - 1000yd
Seracor Thread 50wt - 2500m/2734yds

Formerly known as Metrocor. Seracor is a 100% Polyester Corespun Serger and Long Arm Quilting Thread. Can also be used for General Quilting and Sewing. Optimal elongation, exceptionally smooth and shrink proof.


Seralene Thread 60wt - 2000m/2187yds

A 100% Polyester Overlock thread that is perfect for creating fine, almost invisible seams on light weight fabrics. Thanks to its fine qualities, Seralene is suitable for high quality basting as well as for invisible stitching and decorative work.


Silk Finish Cotton 50w - 150m/164yds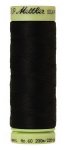 Silk Finish Cotton 60wt - 200m/220yds

The perfect embroidery and quilting thread which can be used on batiste, tulle, cotton, linen, terry cloth and much more. 100% long staple, Egyptian cotton. Soft, smooth and silk like feel. Mercerized, and color fast. Can be used for Machine quilting.


Tire Silk - Machine 30wt 50m
Tire Silk - Machine 50wt 100m
YLI Wonder Invisible Thread -1500yds